Welcome to the Halve Mein HHH home page.

We're all a bunch of nitwits.
Hashing Doesn't Suck


On-On! Come join us for a run and a cold one!!
We are located in Southern Saratoga County and currently run every 2-3 weeks throughout the year. We will sponsor runs anywhere within an hour of the Capital region and further, if it sparks interest.
Anyone interested in hashing and would like to try it - come on out! Your first run is on the hash (thats right free, gratis, no money, just your time, you won't be disappointed)
Next Runs (Updated 7/29/21):
HARES NEEDED! The 2021 Hash Calendar has been posted! Plenty of open dates. If there is a specific weekend or date that you want, now is the time to grab it! Step up! Check it out on the Upcoming Runs page
---
KNURD XVII IS OVER!

Holy cow. What a great time. Thanks to all who came. Thanks to all who worked their butts off to make it happen.

See you NEXT YEAR! (I guess. if we have to.)
---
What: 692 Adiredneck XV Hash
When: Saturday, August 7, 1PM
Hare: Willy Wanker
Where: Wells, NY Erections



Well all you half minds it's that time of year again and if you've been checking our web page regularly you know that In just a week or so marks the 12th Anal Adiredneck Hash. This is were I try to get you city lovin Hashers up in the great Adiredneck Mtns. If you liked the Boston Shiggy or your a Poo Flinger you'll love this. There will be Beer, Shitty redneck beer, Hash food, a shitty trail (of course), more Beer, wild life, great views and more Beer. Once again, this year camping will be available before and after the Hash. This will be primitive camping. No showers, toilets, or electricity unless you bring it. There is runnin water down at the river though. Hash cash $10 for all this and more.

Trail on Saturday is at 1PM. Circle in the river if weather permits. Heck, I'll even feed ya after!

I will be there on Friday if you want to come early. Saturday night will have good redneck food, hot dogs, hamburgers, boca burgers, Beer, campfire beans, and a bonfire to sing Hash songs around or jump naked over. If you would like to bring something else to eat, please feel free to do so. Plus I serve a Sunday brunch.

What to bring: Your self, Your self respect (fuck that you lost that long ago) A tent & related stuff if you want to camp. Dry stuff to wear after the Hash (I have a feeling your going to get wet), A Virgin, if you can find one, Special dietary needs if any, I'll have lips & assholes, hockey pucks, snausage, Coffee & breakfast. I'm supplying beer, water for the main Hash & circle, And feel free to bring whatever else you want to make you a happy camper.(good beer, bug spray, a light, someone to keep you warm at night or just satisfied.) There will be beer, some type of food (if you desire something special bring it along) The river is a bit high now so tubing is in if you have one or maybe a Kayak.

If you plan on camping please drop me an E-Mail so I can get a head count for food. If camping you will need stuff, maybe a chair, tent, something warm to sleep in or somebody warm to sleep with (the nights have been a little chilly), some kind of light emitting object to see with, some type of paper product to wipe your ass (local news paper, TP., weekly world news, TV guide, unenjoyment papers) and what ever else you may need to make you a Happy Camper.

A few other things, I believe there still is no cell service in this area, I haven't checked so i'm not sure. If you think you're going to camp let me know so I know how many provisions to bring. You can text me or contact me at wcooch@gmail.com, I don't check facespace very often so that might be a bad thing.

Feel free to forward this to any other Hasher or Kennel that you might feel would like to join us.

It has been a pleasure to torture you all these years and with any luck you'll still want more after I get done with you this year.

Hope to see you there, If I missed anything so sorry, This is a Hash after all.

On-On to another Adiredneck adventure. Your Hare: Willy Wanker & the Chocolate Factory wcooch@gmail.com



Plenty of open dates, so claim your hash today!
---
Lyrics to "The Spirit of Gisberg" have been posted on the Songs page.
The pack did indeed locate the "luxury tree stand" pictured here on Hash 544!. Like so many things (as you ladies know) it was smaller in real life...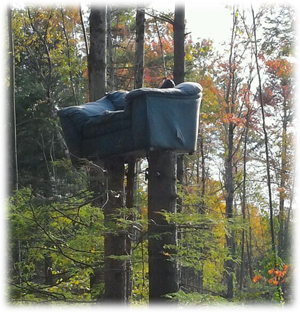 "From there to here,
from here to there,
funny things are everywhere."
- Dr. Suess
---
Newest Trashes (Updated 10/30/15):
Ever wonder what it's like when the pack is snared by the hare? Hash scribe Moans Aloan describes the feeling in this retelling of Tap Dat Ass's birthday Hash 506
Ever wonder what it's like to do trail completely alone? Hash scribe Moans Aloan lived up to her name and scrawled this send up of the Jizz Family Robinson's recent trail, Hash 504
Since the 500th Hash is a special event, Little Wang Theory and Moans Aloan double teamed us with trashes from both ends of the pack. Check them out 500th Run
Stand in Hash scribe Moans Aloan was able to type most of this while riding her bike during this years BASH
Hash scribe Little Wang Theory took his hands out of his shorts long enough to scribble a trash for Run #482, Blow it out your Kazoo Hash
Hash scribe Little Wang Theory bought a map and a dictionary and takes the piss out of the hash in this weeks send up of run Run #484, Chinese New Year Hash
Hash scribe Little Wang Theory got off your Mom long enough to mumble a trash for Run #485, Spring Forward! Hash
Hash scribe Little Wang Theory pretended he actually came to a hash and wrote this send up of our St Patty's Day-ish trail. So easy, even a monkey can do it: Run #486
Stand In Hash scribe PigFucker farted out this one for your weekend pleasure: Run #487, April Foolish Hash aka Sperm Bank's Redemption Hash
---
Did you know? You can also access this webpage by using the URL www.albanyhash.com This makes giving our address to drunk people so much easier!
---
Our Mailing List is active. You can sign up to receive run notices/directions/anything we feel you might need to be notified about.
If you have previously hashed and would like to hare a run, please contact the Web Master. Or just surprise us and show up at the run. We love surprises! Just follow the directions on the Upcoming Runs Page.