In a spirit of Hash fraternity BH3 were quickly notified of our possession of the skull, anonymously of course: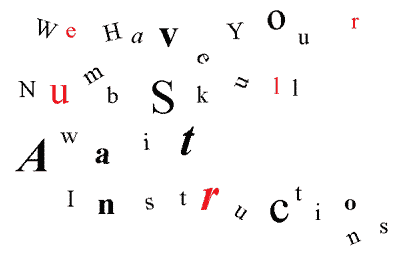 Master Gator immediately suspected Pencil Dick, a former Boston hasher now based in D.C.:
"Pencil Dick, you whiny little whore. I'm prepared to make you an offer. Would you like my offer now? My offer is this: nothing. Furthermore, I'd appreciate it if you shine and buff that skull and return it to me personally at the New England Red Dress (NERD) run 2003 on November 22.
Master Gator"
So angry but so wrong. In response to our second communication the collective intellect of the Boston Hash continued in the aggressive theme:
"you f-ing skull snatcher ... you will have the wrath of the Boston hash on your sorry weeny ass. We will find you and root you out of your sorry dank and dismal hiding place. (at this point they may have confused us with Saddam Hussein - editor)
Oh, and we have stuff to trade that you might prefer to the skull.
We have The Jizzmopper, who we will give to you along with a 6 pack of Old Milwaukee Tall Boys. We will even duct tape the sucker's mouth shut for you. You must keep him for at least a year or two.
Cums Alone (BH3 Scribe), Puff-n-Stuff (Bh3 RA) and Master Gator (BH3 GM), plus an assortment of other hashers present and watching the Pats game"
At least they were making an opening offer, but one which the Skull Liberation Army (SLA) could easily reject. Even before any members had met Jizz Mopper. We also felt an obligation to save the skull's psyche from having to deal with whining Red Sox fans when their inevitable defeat by the Yankees occurred, but a counter offer was made:
"In exchange for it's safe return we at the Skull Liberation Army (Red Dress undercover chapter) demand:

A bevvy of your fine Irish hashettes.
A 1000 word essay entitled "Why I must take more care of my skull".
A case of Sam Adams' finest.
A Red Sox world series hat.

We await you positive response."

So the skull's freedom continued with travel to West Point, where watching a hopeless Army team would prepare him for life as a loser New England sports fan: